Spring Band Directors' Workshop
The Band Directors' Workshop took place on Saturday, April 30, 2022, at the DoubleTree Hotel Cincinnati Airport. Thanks to all the participants, and thanks to clinicians Steve Alia, Nick Riley, Sean Sumwalt, and guest clinician for the day Wes Pendergrass!
All CSJA Active Members have passed background checks!
In 2019 CSJA secured the services of a major company that provides intensive background check services. We want our clients to know that we value the safety of the students we serve, and all our active members have voluntarily submitted to the background check process. So far as we know, we are the first independent pageantry adjudication organization to be able to verify that all our active members have passed a background screening!
---
The elusive cable needed to connect older Sony audio recorders to a computer!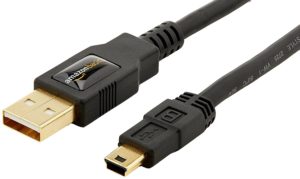 Our older Sony recorders – the ones many of our members have been using for years – require an increasingly uncommon cable to connect to a computer. It is called a mini USB cable and can be found on Amazon.com at this link. Most of our members should still have one (the one that came with the recorder) but it's safer for each sponsor to have one. It costs about $5.
Sony created Windows software to help manage these recorders. However, most recorders should show up on today's laptops just like USB thumb drives. You may download the Sony software here if you need it.
Obviously, if you are running CompetitionSuite and using tablets or smartphones to record, you do not need this cable! But any shows that still use regular recorders could need it. Our members have a mix of older and newer recorders – the new ones have built-in USB connectors. But we still have a lot of the older recorders out there because they never seem to break!
---
Are you sponsoring a pageantry arts event and are in need of adjudicators?
We can provide you with outstanding judges in music, visual, effect, percussion, equipment, or any of a number of pageantry arts captions. Please take a moment to submit your information here, and you will receive a prompt reply.
Questions? Contact The CSJA Leadership Team
---
Some of the markets we serve:
Florida Marching Band Coalition
Kentucky Music Educators Association
Louisiana Marching Band Circuit
University of Kansas
University of New Mexico
Morehead State University
Need a CSJA Contract form? Go here (password required; contact executive.director@csja.net or assistant.director@csja.net for password).
Need a Florida Contract? Go here
Our thanks to CSJA member Ken Martinson of Marching.com for the use of the image!